Governor Rell Congratulates the PWPF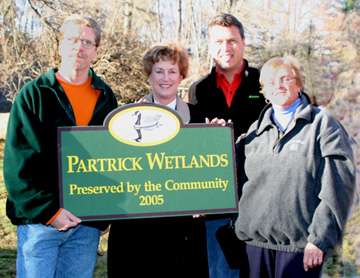 Matthew Mandell, Gov. M. Jodi Rell, Sean Timmins, Sen. Judi Freedman


PHASE II BEGINS
With Fundraising


Now that Phase I is complete, the saving of the Wetlands, now we must move on to Phase II, the protection and maintenance in perpetuity. This takes funds. We have on going legal expenses and new ones as the settlement moves through its paces. Then we have to insure the property and maintain it and hopefully build some trails.


We also need to find a Land Trust or Nature conservancy to come on board to steward this land now and into the future.


We got us here with generous donations of time and money. We still need both. Attached is our Phase II fundraising flyer. Please print it out, clip of the coupon and send a tax deductable donation. You know the money will be well spent as it has since we began.


Partrick Wetlands Preservation Fund
38 Partrick Road
Westport, CT 06880


THANKS!!!