Protect the Partrick Wetlands
and our Community





Sewer Will Cause Sprawl, Densification, Traffic and Urbanization


Breaking News!!!
Mayor Alex Knopp & Norwalk WPCA say Sewer Approval is Invalid
Read about this important development


The CT DEP Says the ARS Sewerline Conflicts with Westport's Plans
Read about this important development


Of major concern is the proposed sewer extension on Newtown Avenue that would extend through the Norwalk Cranbury neighborhood and into Westport. Proposed by ARS ostensibly to serve their 22 clustered houses on the Partrick Wetlands. Its sole purpose is to allow their highly controversial sub-division.


The sewer is not needed, not by Norwalk, Westport or by ARS. Alternatives are available to ARS, but a sewer allows them to maximize the number of houses and of course their profit. No septic failures have been reported in the Norwalk Newtown area to justify the need for the sewer and its introduction will only create problems.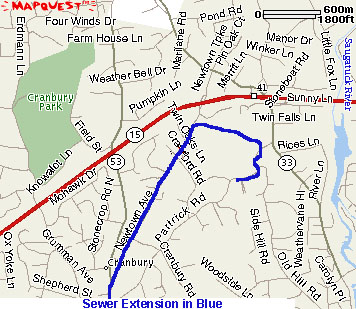 The introduction of the sewer will allow greater clustering of houses such as proposed for the White Barn Theater property and it will increase the sub-dividing of properties through out the area, thus increasing densification. A prime example is the new clustered development on Newtown Ave near Partrick Ave called Cottenwood Chase. Without a sewer such a dense and out of character situation could not have occurred.

With more houses comes more traffic and a greater tax burden to educate the children of these homes and to maintain municipal infrastructure such as roads, police, and fire. The tax revenue from new houses does not match the expenses they incur. Each new house is a net loss for the city.

The sewer will create sprawl and over-development. As it extends deeper into Westport and on into Weston and Wilton the entire character of our area will change. (click for map) Traffic will become unbearable and our wonderful New England Character to will be lost. It won't just affect our neighboring towns it will affect Norwalk as well, as traffic and congestion knows no borders.

Mayor Knopp has set up the Cranbury Task Force to specifically look at the need for the sewer extension and look deeper into cross border developments and how they affect all the towns involved. We support this new approach and urge you to let the Mayor know that you want to Save Cranbury and our neighboring area.

The sewer extension is also contrary to a State Planning and Development committee sponsored Blue Ribbon Panel Report on Sprawl and Smart Growth. A hearing of this panel will be held on January 29th in Norwalk. (see info below)

The time has come to curb rampant development and begin to look at how we can preserve what we have.

Sewer Ills
1. Sprawl
2. Urbanization
3. Increased Density
4. Traffic and Congestion
5. Loss of New England Character
6. Increase taxes
7. Loss of Open Space

Blue Ribbon Panel on Sprawl and Smart Growth
Full Report (in pdf)
Slide Show of Key Findings of Panel


Speech to State Committee - Agaist the Sewer Extension by Matthew Mandell


State Plan of Conservation and Development (goes hand in hand with Blue Ribbon Report
Text of Plan (pdf)
Map of our Region (pdf)

Articles:
Setback for ARS by Norwalk Decision Article touts residents' fight
Sewer Issue Killed October 2004
Mayor Says Sewer Approval Invalid
Farrell Calls for Joint Westport and Norwalk Meeting with eye to Rescind the Sewer
Westport WPCA to Review Sewer Extension Approval
Been asked to rescind it
DEP: Don't extend sewers to Partrick wetlands
Sewer Extension is in question due to DEP
DEP Says Sewer Conflicts with Westport's Plans
Westport and Norwalk Residents wary of sewer and ARS Project
Norwalk Planning Commission hears Residents say they don't want the sewer
Task Force Hears Residents' Views on Sewer - It Stinks. Report to be given to Mayor and WPCA later this year.
Westport to Sewer Saugatuck Shores, but cautions againts Y and Wetlands
Westport Pulls Plug on Saugatuck Shores Sewage to Norwalk
Norwalk questions Westport's sewer connection request
Norwalk Cool to taking Westport sewage (If not Saugatuck, then why allow the Newtown extension)
Westport Treatment Plant Proposal Heard (doesn't mean sewers should extend all over)
Task Force Hears First Concerns; Norwalk, Westport & Wilton Planners speak
Task Force to Meet
Blue Ribbon Panel Hears Concerns from Mayor and Residents
Zullo Threatens 23 houses on White Barn Property at first Task Force meeting
Norwalk Mayor Forms Task Force
ARS Penned anonymous letter, mistaken to have come from Mayor Knopp
(the right thing to do was to have signed it, they didn't)
Sewer to be Reviewed

Public Opinion
Norwalk wise in dealing with sewer line plan - Norwalk Hour Editorial
Fear of Litigation Should Not Dictate Policy
Norwalk Meet with Westport to Rescind - Says Norwalk Resisdent
WPCA Should Review Partrick
DEP says the Sewer Should Not be There A Full Analysis
Partick on the Radar - Sewer and other issues must be decided first
Let Logic Prevail - Stop the Sewer Extension
Westport Says Norwestern Westport Does Not Need Sewers
Norwalk Hour says don't extend sewers to Westport
Recind the Sewer Approval - Norwalk's Common Council President Speaks out
Conservation subdivisions are not a solution
Smart Growth, Regional Cooperation,Open Space-Elected Officials speak out
Now is the Time to Get Involved
Attend the Blue Ribbon Panel Hearing
Standford Advocate Editorial Outlines the issues
Two groups join to fight developer and sewer
Westport P&Z, you're invited to meet with Norwalk to discuss overdevelopment
The Big Picture, the sewer is not needed by Norwalk or Westport
Links of Importance

On-site Septic or Community Based information
Septic Resources and Information On-line
The National Environmental Services Center - www.nesc.wvu.edu
Evironmental Protection Agency - www.epa.gov
CT Department of Health - www.dph.state.ct.us
Norwalk River Watershed Association - www.norwalkriver.org


Sprawl Information
Sierra Club Sprawl Info
Sprawl Watch
Planners Web Sprawl Guide

The Norwalk Task Force:
1. Initial Goals 10/29/03
2. Press Advisory 12/11/03
3. First Meeting Agenda

Westport WPCA info on sewer - NO RINGING ENDORSEMENT


Send an email to Norwalk's Mayor and Task Force
Westport Resident --- Norwalk Resident